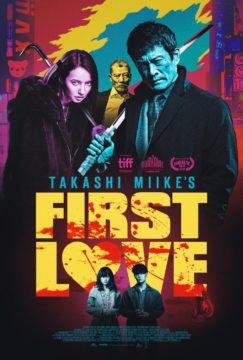 FIRST LOVE
Original title: Hatsukoi – 初恋
2019 – Japan
Genre: Thriller
Director: Miike Takashi
Music: Endo Kôji
Screenplay: Nakamura Masa
Actors: Kubota Masataka, Omori Nao, Sometani Shôta, Konishi Sakurako, Becky, Miura Takahiro, Fujoika Mami and Yen Cheng-Kyo
Story: A young boxer Leo was abandoned as a child and has no family. He works at a Chinese restaurant in Kabukichō, Tokyo as his day job. After losing a match, he is told by a doctor that he suffers a brain tumor. To pay off her abusive father's debts, a young girl Yuri, who uses the pseudonym Monica, is forced to be a call girl and a drug addict. She sometimes sees hallucinations of her father and her estranged former classmate. She is trapped by a yakuza Yasu and his girlfriend Julie in an apartment, which is used as one of the drug dealing hubs. A yakuza Kase and a corrupt cop Ōtomo plan a drug-smuggling scheme. One night, Ōtomo takes Yuri out of the apartment. When she tries to run away from Ōtomo and a hallucination of her father, she encounters with Leo on the street. Leo hits Ōtomo in the face and decides to help Yuri.
It's been years that I'm following the carrier of Miike Takashi with a distant eye, despite the fact 20 years ago, I was a huge fan of his works. But First Love, which surprisingly had the chance to be released on the big screen in France in January 2020, had some serious assets to seduce me. Some good reviews everywhere from everyone, a good cast, and Miike was back to what he does best, a Yakuza film. And when you look closely, not only that, because Miike is working again with screenwriter Nakamura masa. And for me, it was important. They didn't work together since God's Puzzle, and it was in 2008, but many scripts were directed by Miike before that. And a lot of good scripts. Not only God's Puzzle, but also Sukiyaki Western Django, Big Bang Love Juvenile A, Dead or Alive 2 (my favorite flick from Miike), but also Young Thugs, Andromeda (outch) and Bird People in China, probably one of the most beautiful movie made by Miike. The Story here? A boxer meets Monica, a callgirl addicted to drugs. It could have been a meet like any others, if the Yakuza, various Chinese Triads and a few cops were not involved in the drug's story that is too big for almost everyone. We have a love story, Yakuza, blood, murders, chases, drugs, and of course, some crazy jokes like Miike used in the past. Why not, on papers, it's a great mix! And in the end, First Love was all that, and worked well on me. But only after the 20 first minutes, that were kinda dull for me. It's not a bad start, not at all. The editing is nice, the boxing is filmed pretty raw, Endo Kôji is back at the soundtrack (probably one of Miike's biggest collaborator) and delivers a great remix of a theme from Sukiyaki Western Django. But the premise of the story was too long for me. Or maybe I was expecting too much from the film.
And finally, First Love starts the same way as God Bless America. Our hero learns from a doctor that he has a problem in his brain, and it's too late to do anything about it, he doesn't have long to live. Our young man will be out there, in the streets, with no goal, nothing to do, and his meeting with Monica will change his life, because he has nothing to loose, so it's best to follow and protect her. So yes, the first act is necessary, for the characters, for the story. But mainly for the characters, because there are a lot of them, from various backgrounds. Our boxer, our call girl, some good old Yakuza, a few Chinese from the Triad, a bad cop who isn't really clever, the girlfriend of a Yakuza who is a bit crazy and who likes to kick some ass and use a sword. But when everything really sets into motion and everyone is after Monica and Leo who don't understand the situation at all (a Yakuza who decides to steal the drugs from his own family, but nothing goes as planned), First Love becomes good, even really good, and made me smile countless times. Especially the character played on screen by Sometani Shôta, that Miike used again after Lesson of Evil and As the Gods Will, and we all know him for his participation to some of Sono Sion's works (Himizu, The Virgin Suicides, Tokyo Tribes). Here, he is the crappy Yakuza who tries to deal with everything, and often fails like a beginner. Not often, all the time in fact. Sometimes just because he has no luck, other times because he has no real talent. A robbery goes wrong because he missed a step and lost his gun, so finally he has to kill the target. A ridiculous murder attempt with an electronic dog (yes yes you read it right) that doesn't work either… He was the main attraction from the movie for me. And as he's not a good guy, he's not talented or anything, he brings a lot of bloody scenes to the film.
First Love is after all a movie directed by Miike, and when the Yakuzas decide to take care of business, they drive on people, they cut off some heads, they use gun a dozen times just to be sure. But it's not violent just to be violent like in some past films from Miike, or at least he's not entirely focused on it. But it's too bad because with all those good violent scenes and some good makeups, the film also uses some CGI from time to time, and there are bad, and you notice them right away, like in this car accident with CGI that seems to be coming from another era. Ok, there are rare on screen, but you notice them really easily and it's distracting. Another flaw of the film, for me, is more important. Because if Miike does a really entertaining movie, makes us laugh more than once, and gives us a movie with a good pace from beginning to end, all the characters are not that good. Yes, Sometani Shôta's character is amazing, funny and everything, and many of the actors are great, but it's sometimes pretty hard to believe in this love story between the two main casts. Yeah, nothing too bad, but with a better development on their part, maybe the movie could have been even sad or more engaging sometimes. Or maybe even unforgettable. Still, it's a really good film, a good film among a filmography made of 100 films and more. A filmography with some ups (First Love remains one of them) and down (a thousands times lower than First lOVE), but with so various works that you can find more memorable flicks there.

The Goods
First Love is crazy
Sometani Shôta, incredible
Violent and sometimes so funny
Good characters
Good pacing from beginning to end
The bads
The love story could have been better
The first part, maybe a bit too long
Some bad CGI
So: Miike is back for a crazy Yakuza flick, and throws in the story a boxer, a callgirl, yakuza, triads, cops and so much more. Not perfect, maybe lacking some emotions, but fun and entertaining.