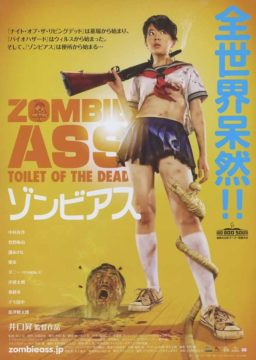 ZOMBIE ASS: TOILET OF THE DEAD
Original title: ゾンビアス
2011 – Japan
Genre: Shitty zombies
Duration: 85 minutes
Director: Iguchi Noboru
Music: Fukuda Tasuhiko
Screenplay: Murata Ao, Tsugita Jun and Iguchi Noboru
Actors: Nakamura Arisa, Sugano Mayu, Mamoru Asana, Yûki, Asami, Demo Tanaka, Danny, Kentarô Kishi and Kentarô Shimazu
Synopsis : Some young fellows go in the middle of nowhere for a good time. Sex, fishing, a good plan. Except that pretty fast, their plan goes to hell when zombies appear, controlled by phallic parasites.
Iguchi Noboru, no need for another introduction. Far from being a really good director, let's say he's a good technician and knows how to handle very low budget flicks, with a lot of humor, usually pretty light. Unfortunately, on the other side, he doesn't know how to handle his films. There are always problems in the pacing, and his films are usually too long for what the story wants to tell. After a few adult films, he became quite famous in 2006 with the erotic comedy Sukeban Boy, with Asami, and then will find success overseas with The Machine Girl. It was in 2008. A film that worked because of the hype, the fantasy of every fan of the genre, a fun little film, but not the masterpiece or fun film some people wanted to tell you it was. Iguchi will continue down this path, with each time more comedy, like for his chapter of Mutant Girls Squad (the less fun of the three chapters) and the very bad RoboGeisha, with many ideas, but way too long and finally, too clean, too kind. Finally, in 2011, Iguchi will finally do some fine work with Tomie Unlimited. A grotesque movie, but more serious, with a good pacing and some gory special effects. His Zombie Ass, sold like a shitty movie, it was a movie I was waiting for, thanks to his trailer.
After running in a few festivals and a discreet release in Japan in February, the film is finally out on dvd, still in Japan. The curious ones (like me) and the fans can finally get the movie and put their brain at rest for 80 minutes. Because yes, to appreciate Zombie Ass, you need to love butts, farts, shits, gore, and zombies. Iguchi does a little more than that, adding to this boobs (smalls and bigs, there are some for everyone), a few monsters, parasites, humor (shitty one), kung-fu, and of course, Asami for a little part, as always. What a plan! Unfortunately, he won't find a way to change the way he works, far from it. But at least, his movie will go at the bottom of things (oh yeah, real deep). as always then, we have a little introduction scene, to shows us what the movie can do, and then, of course, a loooooooooong introduction for the characters, because yeah, it's an Iguchi movie.
For about 20 minutes, the flicks will only introduce the characters, young people, and everything is so classic. The lady with (very) big boobs, the one who wears a student's outfit and does kung-fu, the nuts guy (he was actually in Helldriver from Nishimura, a way better film by the way), and the guy with horrible haircut. For 20 minutes, it's a festival. Shitty jokes, farts, and, as a bonus, panties shots, and also butt shots! Iguchi is crazy, and let's admit it, it works pretty well, the jokes are stupid, and a little diarrhea later, real zombies come into the movie, coming out from the toilets. Dozen of them. The low-pitched humor, the gore, everything arrives in the movie, straight in our face, like those zombies throwing shit to the characters. The film then turns into a rather well-paced, closed-door flicks. Our characters find refuge inside an isolated house, where of course, a scientist, with his daughter, are there. Iguchi has fun, and us too, and the special effects are, for this kind of product, pretty good, and the jokes work well, not like in RoboGeisha (I'm traumatized by this film). It doesn't seem forced, it comes out naturally, and it's crazy for a scato zombie movie! Iguchi alternated, like in the good old days, between the comic effects and the dirty gore effects, and he adds a few scato shots in the mix. Never, except in some weird porn flicks, so many things came out and in the butts of our characters (well, ok, there was a chainsaw in someone's butt in Mutant Girls Squad and swords in RoboGeisha). Of course, a few real bad CGI effects come into the mix, but used fairly moderately, it's fine…most of the time.
Unfortunately, as it's an Iguchi film, nothing is perfect. And after 40 pretty good minutes (if you like this kind of films of course), with jokes, gore, the film slows down to explain his concept, the story, the background, and it's not always necessary, like if Iguchi was loosing himself in his own movie, like each time. This time, there were three to write the script, so that's strange. He got help from Tsuguta Jun (already a screenwriter for Mutant Girls Squad, and director for Fashion Hell). As a viewer, you'll have to face 20 boring minutes, not really interesting, even if Iguchi will have fun and undresses a few actresses… Ok, they will at some point all get naked! A few betrayal and runaways later, the movie decides it's time to be funny again, for a final 20 crazy minutes, not perfect, but fun. Iguchi goes far, uses grotesque imagery like he did in the past with RoboGeisha or The Ancient Dogoo Girls (Dogoo V), and sometimes, it works. Some other times, it doesn't. Digital effects are more often used, and we have a lot of fights, on green screen. Still with the shitty jokes and low humor, and it fits the movie well, and Iguchi gives us way more panty shots (he's a god for that), and even… a few rapes with tentacles. Yup, it looks like a hentai. His Zombie Ass isn't perfect of course, far from it, but it delivers what you can expect from it, and in a way, that's already pretty good.

Les plus
Pretty funny
Many butts, many boobs
Iguchi uses gore again
Some nice effects
Pretty cute actresses
I really liked the soundtrack
Les moins
Still some pacing problems
It talks way too much sometimes
During the final act, so many bad CGI
So: After a really bad Robogeisha, Iguchi is back with shitty jokes in a zombie movies with shit, sometimes really funny, sometimes really gory, with all the bad sides of his films (too long, too talkative), but still highly entertaining.