Original title: The Neon Demon
2016 – U.S.A. / France / Denmark
Genre: Drama
Director: Nicolas Winding Refn
Music: Cliff Martinez
Screenplay: Nicolas Winding Refn, Mary Laws and Polly Stenham
With Elle Fanning, Jena Malone, Abbey Lee, Bella Heathcote, Desmond Harrington, Alessandro Nivola, Keanu Reeves, Karl Glusman and Christina Hendricks
Synopsis : Jesse moves to Los Angeles just after her 16th birthday to launch a career as a model. The head of her agency tells the innocent teen that she has the qualities to become a top star. Jesse soon faces the wrath of ruthless vixens who despise her fresh-faced beauty. On top of that, she must contend with a seedy motel manager and a creepy photographer. As Jesse starts to take the fashion world by storm, her personality changes in ways that could help her against her cutthroat rivals.
Nicolas Winding Refn had opposite reactions from the audience on only two movies. First, great reviews from both audience and critics with Drive in 2011, then total reject and bad reviews for Only God Forgives in 2013. Then came The Neon Demon in 2016, a film about beauty. And again, Cannes is here to destroy the film, with severe reviews. The film got some bad reviews, and even more. And for those won't don't know, I love Refn's cinema. A director with a strong style, his, and who started since 2009 a king of trilogy (quadrilogy?) with almost mute characters. Valhalla Rising, Drive, Only God Forgives and now The Neon Demon. But this film is also his third collaboration with composer Cliff Martinez, who is a great help for the creation of this universe, this world (and he gives us here one of his best work), and it's also his second film in a very colorful atmosphere, almost psychedelic. Because, let's be clear, those who didn't like Only God Forgives won't like The Neon Demon. Everything is here, but more extreme.
The Neon Demon, it's like Only God Forgives on many things, but more feminine, more abstract, and even more radical. Some might say it's more boring and artsy also. Because yeah, the shots are long, colors are very colorful, the atmosphere is the most important, the script is thin once again but if we are deeply into that atmosphere, it doesn't matter. Still, Only God Forgives was short (without the credits, 82 minutes), The Neon Demon runs almost 2 hours. And sometimes, it feels like we are watching Mulholland Drive if it was written and directed by Refn. Ok the subject is not the movie industry, but fashion. The ascension and then the fall of Jesse, a young girl coming to Los Angeles to become a model because hey, she's beautiful. Since the first images, when we see Jesse, lying down on a couch, all bloody, with a few synthesizer's notes from Cliff Martinez, the slow zoom from Refn, the colors, we are in! The Neon Demon is an experience. And as often, the film won't surprise us by the treatment or its script, simple, but by the visual and abstract way to show us everything, by the symbolic behind the images. And once again, the visual work is just magnificent. The cinematography from Natasha Braier and the artistic direction from Eliott Hostetter are impressive!
The shots, the location, the colors, the directing from Refn, everything seems perfect and it's a pure pleasure for our eyes. A very good point and no one even doubt that anyway. But what about the rest? First thing, the cast. The usual actors from Refn's films, Mads Mikkelsen or Ryan Gosling, are not here. The Neon Demon is a film about women, and the film focuses on Elle Fanning. We first saw her thanks to Super 8, and here she's gorgeous on the screen, always acting right, no matter if it's the first part when she discovers the fashion's world or the second part when she's perfectly aware of her assets and how jealous others are. The rest of the cast is also great, as we have next to her Jena Malone (Donnie Darko, The Ruins, Sucker Punch), excellent, or Abbey Lee (Mad max Fury Road) and Bella Heathcote (Dark Shadows). But Elle Fanning holds out attention. Men are rare, but we can talk about the participation of Desmond Harrington (Dexter) as a not very talkative photographer and Keanu Reeves as a creepy hotel manager, disturbing and excellent. Men aren't very important here, and are only voluntary caricatures of what they should be: the boyfriend, the photographer, the fashion guy. Excellent casting, gorgeous visual, perfect musical score, script as often thin (but not uninteresting), The Neon Demon is a pure film from Nicolas Winding Refn. But contrary to his habits, a new element in his work arrives, humor.
Yes, during the dialogues, especially about the description of the fashion world and beauty, The Neon Demon delivers a lot of comical situations, a few nice jokes, and during the screening last night, people were laughing. The dialogues are extremely well written, and actors always in the right tone to make it works. It's only after the screening that we can question this comical aspect. Because in fact, the jokes are only here as a counterweight of the bad situations, or something the stupidity of the situations. The humor works even if the movie is dark and sometimes absurd, and it's a very nice thing. We can laugh about situations that don't lend at all to smile in the first place. But after making us laugh, The Neon Demon delivers also 20 bloody and disturbing final minutes, and I won't say a thing about it. Refn also has fun and multiplies the tributes to a few genre films: Cat People from Paul Schrader, A Nightmare on Elm Street from Wes Craven, and even Italian giallo like those from Mario Bava and Dario Argento ! So The Neon Demon was perfect? Basically, yes, I found exactly what I wanted to find here. However, the film isn't flawless. It runs 2 hours and it might be a little too long (the longest film from Refn). Maybe 10 minutes less would have been perfect. Also, maybe the switch between innocent Jess and the aware « evil » Jesse is too fast, even if that scene is perfection on screen. A few flaws, but nothing bad, nothing to mess up this brilliant and memorable film.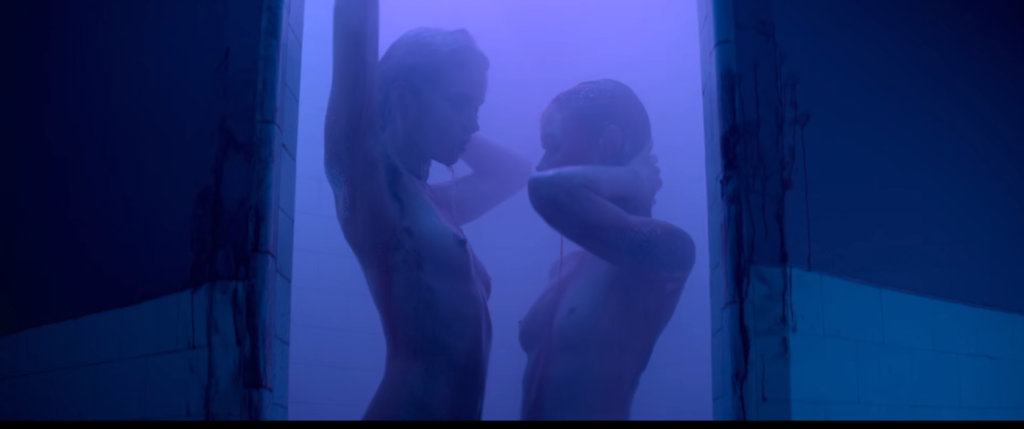 The best
Visually stunning
One of Cliff Martinez's best score
Elle Fanning is gorgeous
Nice humor in the film
The final
Meeeeh
Maybe just a little too long
So: Refn goes a little further in the exploration of his cinema. More abstract and radical than before, he adds a few jokes and it works. Those who like his cinema will love the film, other will hate it even more.